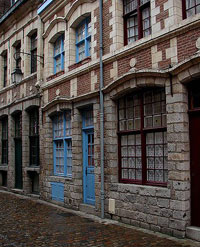 North Calais (Nord-Pas de Calais) is steeped in history. Its northern part, French Flanders, used to be a part of the countship of Flanders, country of the Flemings. The French Flemish dialect is still widely spoken here.
North Calais has been fought over in many wars. Some of its towns, such as Calais, were nearly razed to the ground in World War II.
It is a region with a very high population density and a high degree of urbanization. It is also a major crossroads of Europe, being home to key ferry ports and railway lines, including the Channel Tunnel, which connects to France at the town of Calais. It also has some lovely resort towns, such as Boulogne-sur-Mer and Le Touquet.
Lille is the regional capital of North Calais. It features an attractive city centre, the Place du Général-de-Gaulle. Another area, the Place du Théâtre, also offers many rich architectural sights.
The city holds a major annual flea market, the Lille Braderie, where you can buy and sell virtually anything. It holds the reputation as the largest flea market in Europe, attracting millions of visitors each year.
---