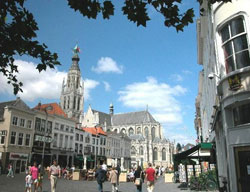 In 1830, when Belgium and the Netherlands split into two separate countries, the duchy of Brabant was split too. The north remained part of the Netherlands, while the south became part of Belgium.

North Brabant is mostly above sea level. Forests, heaths and dunes dominate the countryside. A sizeable part of the lush Biesbosch, one of the country's largest national parks, is in North Brabant. The Biesbosch covers hundreds of square kilometres of willow forests, wetlands, grasslands, rivers, small islands and sand dunes.
Tourism has become one of the province's main industries, thanks to the unspoiled natural beauty of the Biesbosch and the enduring appeal of the festive Efteling, one of the oldest and largest theme parks in Europe.
Brabanters also make a living by dairy farming and agriculture (mainly wheat and sugar beets). The industrial part of North Brabant is centred in the municipality of Eindhoven, the headquarters of international electronics giant Philips. Other industries here include automobiles and textiles.
---