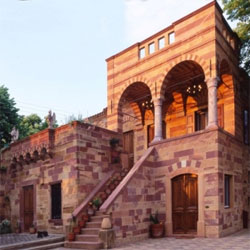 The North Aegean archipelago consists of five large islands and many smaller ones. Of these, Lesbos and Chios are the most famous. These islands get little rainfall and are very hot in summer.

The islands are known for their beaches and UNESCO World Heritage Sites. There are still traditional fishing villages on the smaller islands, as well as yacht ports. The island of Limnos has many such charming villages. Its capital, the picturesque town of Mirina, is built on the ruins of an ancient city. Neolithic and Bronze Age remains can be found on this island.
Chios is green and scenic, with many examples of age-old art and architecture. Siros and Inousses have only one village each, and have wonderful beaches. Samos, very close to Asia Minor, is full of vineyards and attractive mountain villages plus fishing villages by the sandy shores. The island's best beaches are at Hrissi and Kokari.
Ikaria has fascinating scenery and great beaches. Charming two-storey sea captains' houses are found in the capital. Also famous are Therma's therapeutic radioactive springs.
Lesbos, once home to classical poet Sappho, offers tremendous variety—traditional villages, hot spring spas, excellent restaurants, charming cafés, vibrant nightlife, and great art museums. Close to Turkey, it has a rich culture. It also has an amazing petrified forest. It has great beaches but is unspoilt by tourism.
In fact, it may be said of the North Aegean Islands in general that although they have good beaches, noteworthy sights, and beautiful scenery, they remain unspoilt.


Chios
The island of Chios lies a short distance from Turkey, and is blessed with fertile lands, lush vegetation, and fine beaches. It is known for the evergreen mastic shrub, which is cultivated for its resin. Chios also has a successful shipping industry.
Small picturesque villages dominate the island's north. Here, old citrus groves are protected from harsh natural conditions by surrounding high walls.
The modern port and capital town of Chios, has hotels, shops, bars, restaurants, and entertainment centres. It has a significant population of students. Several of its many beautiful beaches have a youthful vibe where nightlife thrives.
Nea Moni, an 11th century monastery on Chios, was declared a UNESCO World Heritage Site in 1990.
 
Lesbos/Lesvos
Lesbos, where Sappho penned her famous poems, continues to fascinate individuals with its verdant mountains, thermal springs, beautiful beaches, and petrified forests. Lesbos has charming fishing villages and modern beach resorts, Molivos being the most popular. In Agia Paraskevi, its beautiful old mansions are an attraction in themselves.
Lesbos' commercial centre is Mytilene, one of the oldest settlements in the Aegean region. Many neoclassical buildings have been renovated to house government offices. Shops sell ouzo, cheese, honey, soap and pottery.
The town has a significant number of student residents attending the University of the Aegean.
Samos
The verdant island of Samos thrives on tourism. Its beaches are lined with resorts, night clubs, and bars. Many villages have become commercial centres.
Samos's residential architecture varies from village to village. Venetian houses can be found in Samos, the lively town capital, and in Vathi, which also has neoclassical buildings. White and blue houses with wooden shutters face the coasts of the picturesque Pythagorion.
Samos is internationally known for its sweet and dry wines made from Muscat grapes.
Ikaria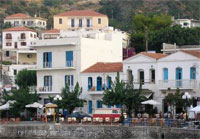 The remote and scenic island of Ikaria is associated with the myth of the flying Icarus who fell on its waters. The region is a combination of thick vegetation and rocky cliffs, with several thermal springs. While the beaches are very beautiful, currents can be strong which discourages swimming.

The main village of Ikaria is Christos Raches, nestled in pinewood forests. It has schools, small shops, a bakery, and sports centres. It is very quiet during the day, with some businesses not opening till late afternoon. It is quite interesting that inhabitants come alive at night, which makes one think of vampires.
Fourni
The archipelago of Fourni consists of twelve small islands. Its capital, also called Fourni, has a port where ferries dock. The waterfront is lined with mulberry-shaded tavernas.
Fourni has a paved road and many footpaths. Cars are few, but most residents have private boats. The island has popular beaches as well as remote ones, which with the extension of the road network will be more easily accessible.
Thimena, named after the herb thyme that abounds in the area, is the second largest village and enjoys more quiet. It has a monastery and church. Chryssomilia is also inhabited and quite charming, with its hillside houses.
Limnos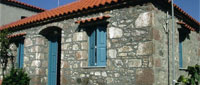 Mainstream tourism has not fully explored the flower-filled island of Limnos, once an important site for the worship of Hephaestus, god of fire and blacksmiths. It is also known for its natural beaches and thermal spas. Fish ponds and natural bird sanctuaries abound.

In its capital Myrina, several hotels are built where ancient temples once stood. Residences include old Turkish mansions with wooden verandas and small gardens. A Venetian castle can be found.
Myrina has modern restaurants, shops, and fish tavernas, as well as tourist accommodations lining its narrow stone streets and alleyways. There is a cinema where international films are shown with Greek subtitles.
---