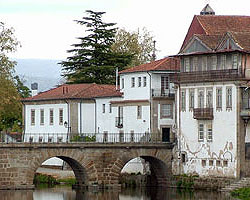 Norte's capital is the city of Porto (known as Oporto in English), a modern European city situated on the hills overlooking the river Duoro. Despite being the second largest city in the country, and one of the most industrialised, Porto has a small population. Although it is as prosperous as Lisbon, Porto has its own culture, and is architecturally different. Unlike other major Portuguese cities, Porto's town centre is monumental and constructed in granite. There are beautifully preserved Baroque buildings all over the city, and Porto's colourful medieval quarter of Ribeira has been named a World Heritage Site. The city's main thoroughfare is the Avenida dos Aliados, flanked by large hotels and bank buildings and ending in the Praca da Liberdade.

Porto is the birthplace of port wine. The English names of wine warehouses on the Vila de Gaia are a reminder of the city's long trade history with England. This relationship has given the city a somewhat British atmosphere, and indeed many British expats still work in the port wine trade in Porto. The Oporto British School was founded here in 1894.

Porto citizens are extremely proud of their city and esteem its industrial heritage so highly that they hold themselves apart culturally from the rest of Portugal. Locals believe that Porto is in itself its own nation, although other Portuguese find the mostly working-class city's population to be somewhat lacking in social graces. Cultural differences aside, Porto is connected to the rest of the country through its own international airport and good rail and road connections.

The Duoro River Valley, where port wine is produced, is one of the world's oldest wine regions. This rugged, semi-remote valley with its winding roads and terraces of vineyards is becoming a popular destination for wine holidays. There are new luxury hotels, fine restaurants and modern wineries here.

Also situated in the Centro is the greenest and most traditional province in the country, Minho, often known as Costa Verde (Green Coast). Once the preferred address of wealthy Portuguese, it has many stately manor houses along the river valleys, which have been preserved and turned into luxury accommodations for celebrities, members of royalty, and other people who have come to enjoy traditional Portuguese hospitality.
Affordable rates have also made the luxurious lifestyle accessible to a lot of budget-conscious travellers. Minho has become quite popular with investment property buyers, many of whom build holiday homes away from the main tourist areas. Moledo Beach in Caminha is a particularly attractive area, drawing expat investors who prefer the quiet seaside and cheaper costs than Algarve's.
Most homes for sale are traditional stone houses, although for those seeking more modern accommodations, Ponte de Lima is a popular spot. The province's lush vegetation has flourished in its calming, rainy Atlantic weather, and it is the perfect setting for the colourful festivals and historic attractions in Minho.
Portugal's first capital, Guimaraes, is also in the province, as are the traditional towns of Viana do Castelo and Ponte de Barca, where the centuries-old market of Barcelos remains active today.

The atmospheric city of Braga is also located in Centro. Although a modern city with a mostly young population, its bustling city life moves around the setting of Baroque churches, elaborate gardens and parks, and preserved 18th century houses.

Portugal's wildest region, Tras-os-Montes (Behind the Mountains) is here, in the extreme northeast. The area's tiny medieval townships give it a very traditional atmosphere, particularly in the isolated capital, Braganca, with its historic walls. The area has a continental climate of hot summers, and severe winters. The old paths date back to the Visigothic empire, and many visitors troop to the old town and head to the nearby Montesinho Natural Park to enjoy its savagely beautiful natural scenery.

---