Quito's northern parish is a bustling that includes two of the city's busiest thoroughfares and commercial areas (Avenida Amazonas and Avenida Cristóbal Colón).
Key residential areas here are Mariscal Sucre, Avenida Amazonas, Iñaquito, Gonzales Suarez, Parque La Carolina, Monteserrin, and Zambiza.
Mariscal Sucre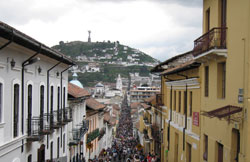 Ecuadorian history continues when you travel up north, with El Ejido Park signaling that you are about to enter the modern phase of this particular South American country's history.

This highly commercial urban district is also known as La Mariscal, New Town, and New City. Only a 20-minute walk away from the Old Town, Mariscal Sucre is architecturally contrapuntal to Centro Histórico's colonial charm. The New Town gleams with modernity: tall buildings, prominently displayed contemporary art glorifying Ecuadorian life all over the streets and roundabouts, and the district's main street, busy Avenida Cristóbal Colón, which is lined with hotels, banks, restaurants and boutiques.
Mariscal Sucre has fine museums: the Museo del Banco Central, which houses the biggest collection of Ecuadorian art, from indigenous pre-Hispanic and colonial-era religious art to modern paintings and sculpture; the ethnohistorical Museo Mindalae, which features the richness and diversity of the different peoples of Ecuador; and the Museo Guayasamin, which displays national artist Oswaldo Guayasamin's canvases as well as pre-Columbian metal, ceramic, and bones that are more than 4,000 years old.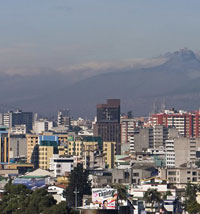 The entertainment and party capital of Ecuador, La Mariscal is where the artsy, well-heeled, and stylish local and expat crowd congregate. There is no shortage of backpacking tourists and college students here either. This is mainly due to La Mariscal's long strip of internet cafés, restaurants, bars, Spanish language schools, bookstores, discotecas, salsatecas, shopping malls, banks, embassies, travel agencies, tour companies, theatres, indigenous artisan stalls, fruit and vegetable markets, and cinemas.

When night comes, La Mariscal lights up as bars and clubs come to life. A lot of venues in this district play live music and great food. Salsa, vallenato, tango, pop, jazz, techno, punk rock, cumbia, house music, merengue, reggae, slow dance, hip-hop—name it, you'll hear it when La Mariscal switches to night mode.
Ballets, Andean dances, plays and operas are held in La Mariscal's theatres. One fine performance place is the glass-plated Casa de la Cultura Ecuatoriana, which has an auditorium and a movie theatre.
Revellers cap the night at the district's finest restaurants and cafés, where they order espresso, hot chocolate and killer ceviches. La Mariscal's cuisine is as diverse as Quito's environment. Its restaurants boast of first-rate American, Italian, Spanish, native Ecuadorian, Middle Eastern, Mediterranean, Chinese, Japanese, Cuban, Thai, Lebanese, and Mexican food.
Avenida Amazonas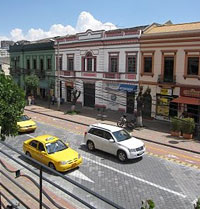 The Avenida Amazonas is one of Quito's main streets, a commercial and tourist magnet thanks to its hotels, banks, travel agencies and shopping centres. Moneyed folks would want to stop by and shop for international brands in swanky El Jardin, Quicentro, Centro Commercial Aeropuerto, and Centro Commercial Carracol, most of which resemble American shopping malls in size and interiors.

Outside, artists sell their works on the pavement. The avenue is a popular parade route.
Iñaquito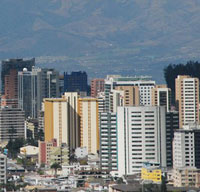 With its large cluster of mammoth malls, Iñaquito is perhaps one of the most commercialized districts in Quito. Iñaquito is predominantly peopled by the affluent crowd. Americans and other international communities have found their home in this urban parish. Missionaries have also put up their headquarters here.



Gonzalez Suarez
This posh neighbourhood in the north is named after an early 20th century archbishop of Quito. The British and US Embassies are not far away, and many diplomats and expats live here.
Parque La Carolina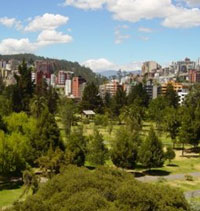 Parque La Carolina is Quito's biggest recreational park. It has its own boating lake, children's playground, basketball court, equestrian track, and skating rink. A lot of people regularly jog or do brisk-walking here. On weekends it is filled with families who go rollerblading, skateboarding, play soccer, volleyball, and ride bikes around the park.

The park's Jardín Botánico has more than 300 species of Ecuadorian flora and an impressive orchid greenhouse with more than 1,000 varieties of the flower. Right beside the botanical garden is the Museo de Ciencias Naturales, the country's principal natural history museum.
Monteserrin
Monteserrín is a residential area nestled on the top of a hill in northern Quito within the urban parish of Jipijapa. Blessed with a magnificent view of the city, this neighbourhood is where Ecuador's President Rafael Correa lives.
Zambiza
Founded by the Spaniards in 1584, the parish of Zambiza has around 6,000 residents. Zambiza is a predominantly agricultural zone and is one of the main suppliers of Ecuador's Supermaxi chain. Credit institutions and small cottage industries are the two other main income generators of the small parish.
---