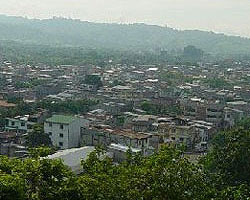 Noroccidental is a largely agricultural region of Quito. Tourism is also a growing sector here, as nature reserves and cultural sites draw tourists to the area.

Key residential areas in Noroccidental are Gualea, Nanegal, La Delicia, Nanegalito and Pacto.




Gualea
"Gualea" means "large sweet potatoes" in the Yumbo tongue. The parish's economic activities include small-scale agriculture, panela production, and raising livestock.
Nanegal
Nanegal used to go by the name of Nanegal Large. Its economy relies on tourism, agriculture, stockbreeding, and its dairy and panela industries. Yucca, cane sugar, bananas, and vegetables are its main agricultural products.
Nanegal's Maquipucuna Reserve has within its territory 2,000 species of plants, 250 species of butterflies, 50 mammalian species, and over 340 species of birds. The parish also has two archaological sites containing pre-Columbian ruins, namely the forts in Chacapata and Palmitopamba. The Canoe Waterfall is a great place for a splashy swim in Nanegal.
La Delicia
In a remote location in the suburban parish of Nanegal lies Barrio La Delicia, a community-run lodge that offers accommodations to visitors. The rustic lodgings are without electricity and provide only the most basic amenities such as toilets and hot showers.
It only takes a two-hour mountain hike from La Delicia to reach the cloud forest, a great place for bird-watching and studying diverse wildlife.
Nanegalito
The rather young parish of Nanegalito was founded in 1952, and so named to distinguish the new settlement from Nanegal Large. Farming and stockbreeding, milk production, and the cultivation of papaya, naranjilla, lemon, avocado, tomatoes, babaco, and yucca keep a lot of its residents busy. Notable places in Nanegalito are the Orquideológica Reserva Pahuma, home to both orchids and hummingbirds, and Tulipe, the ceremonial centre of Ecuador's pre-Columbian Yumbo culture.
Pacto
The parish of Pacto got its name because its inhabitants found liberal versus conservative quarrels futile, and clamoured for a pact of non-aggression. Pacto is farming and cattle-breeding country; the rapid rate of deforestation brought about by unhampered logging has caused topsoil erosion, climate changes, and the disappearance of some water sources. However, there are still a few small but picturesque waterfalls here.
---