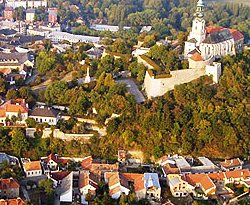 Thanks to its flat terrain, mild climate and fertile soil, the region is prime agricultural country. It was in Nitra that Slovaks first built a Christian church, and where they first started to use their alphabet. During the peaceful period of the 18th century, Nitra underwent development and renovation. More buildings were constructed, particularly in the Upper Town area.

Present-day Nitra is western Slovakia's centre of culture and economy. The region has several features attractive to tourists, such as several archaeological digs from the Moravian Empire. Plays, concerts, and exhibitions are held here all year round. For those interested in recreation of the more ecological persuasion, there are many hiking trails. Zobor Hill is a favourite among the locals, and Pyramid Peak affords a beautiful view of the city.
Nitra City
Known as "the mother of Slovak towns", Nitra is the oldest city in the country, once ruled by great kings and princes. It is said to be the cradle of Slovakian history, and the home of legendary heroes such as the great Prince Pribina and King Svätopluk, and Saints Cyril and Metod.
Many young people in Nitra are easterners who come to study at the University of Constantine the Philosopher and at the Slovak Agricultural University. These students make up a large portion of the city's population, earning it its reputation as a city of young people. Entertainment and events for young people, and those who have a taste for chamber music, can attend concerts at the Ulica Pri Synagogue in the city square.
Nitra is an important agricultural and industrial centre. Vineyards on the slopes of Zobor Hill produce the city's wines.
---