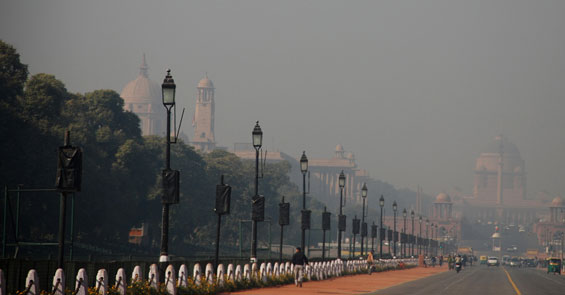 Delhi, the second-largest city of India, has a population of over 18 million. Delhi is a federally administered union territory of India with New Delhi as its capital. It is also the National Capital Territory. Delhi is second to Mumbai as a centre for commerce, and draws migrants from all over India.
This huge metropolitan area has an area of 1,484 sq. km, of which 783 sq. kilometers are rural. The 318-meter Delhi Ridge is its most dominant geographical feature, stretching from the Aravalli Range in the south, around the west, northeast and northwest of the city.
Delhi lies in an earthquake zone in the Ganges and Yamuna flood plains?- giving it rich soil, good for agriculture, but often flooded.
Its climate is semi-arid. Summers last from early April to October, while winter starts in October. January is the coldest month. There are monsoon rains in summer and heavy fog in winter.
Delhi has been inhabited since at least 600 BC, and has been an important centre for politics, trade and culture throughout India's history.?The current capital of India, the city of New Delhi, was built in the 1920s by the British, and was declared the country's capital when India became independent in 1947. With its 160 foreign embassies, the city draws many foreigners. English is an official language, along with Hindi.
Delhi's transportation system struggled to keep up with the demands of its growing population. Public transport includes a rapid transit system, and public bus lines, and, in New Delhi, an underground.
---