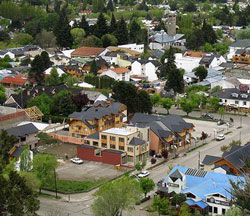 Neuquén is one of Argentina's most prosperous provinces. This is mostly due to the great mining and petroleum extraction activity in the area, but also partly due to its being a popular vacation spot for Argentines and foreigners alike. The province has many destinations to keep visitors busy during both winter and summer, and has a steady tourism industry.

Popular destinations include the ski slopes of Chapelco, Cerro Bayo, and Caviahue during the winter and the rich natural beauty of San Martín de los Andes, Villa La Angostura, the Los Arrayanes, Lanín, Nahuel Huapí and Laguna Blanca National Parks, and the hot baths in Copahue in the summer. Fishing enthusiasts also visit the province to catch trout in the Limay and Neuquén rivers.
In prehistoric times, Neuquén was also the home of the Argentinosaurus dinosaurs, and a 95-million-year-old dinosaur's bones are now on display at the Carmen Funes Museum in Huincul.
Neuquen City
Neuquén is the fastest-growing city in Argentina's Antarctic south, set in the midst of rich agricultural lands in the fertile, fruit-bearing Alto Valle and watered by the Limay and Neuquén rivers.
The hydroelectricity and oil industries brought development to Neuquén in the 1960s and 1970s. Its more well-off neighbourhoods are situated in the higher-altitude parts of the city, which includes the Parque del Centenario. The park's centrepiece is the Plaza de las Banderas, an array of flags inside a roundabout. It pays tribute to the regiments that brutally subdued the indigenous population in the military campaign that won Patagonia for Argentina.
The Avenida Argentina goes by the park and is one of the city's main thoroughfares. Beautiful views of the city can be obtained from these high.
San Martin de los Andes
At the foot of the Andes, on the shore of Lake Lácar, is the beautiful town of San Martín de los Andes. The Alpine architecture of its buildings, the gourmet chocolates sold in its stores, and the gorgeous mountains, woods and lakes that surround it make it a favourite destination of winter tourists. San Martin de los Andes is not as developed as Bariloche (and a height limit is imposed on its buildings), but it is popular for the same things: skiing and snowboarding in the winter, swimming, hiking and fly-fishing in the summer. In addition, its neighbour is the expansive Lanín National Park.
San Martin de los Andes is close to one of Argentina's best ski sites, Cerro Chapelco.
This part of Argentina is known for its chocolates—San Martín de los Andes along with Bariloche. Hand-made chocolate is one of the city's top products along with handicrafts.
---