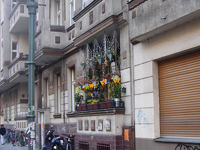 The Neukolln district is an immigrant area, with a crime-ridden reputation. Neukolln is considered the most troubled part of Berlin, and one of the worst in all Germany. This is mainly due to its frequent social problems, high crime and very high unemployment (close to 25%).

Despite its seedy reputation, the district has become popular with Berlin youth for its hip underground scene, and alternative nightlife.

Neukolln is dominated by its infamous high-rise apartment buildings. However sections of old villages survive in some places. A couple of the major housing developments include the Britz estate, which dates back to World War II, and Gropiusstadt, one of the two biggest developments in what was once West Berlin. The northern part resembles neighbouring Kreuzberg.

In the north Neukolln is home to the popular square Hermannplatz. which connects to the popular Karl Marx shopping street. Its old centre, Rixdorf, is a cluster of lovely old buildings which includes the well-preserved Bohmisches Dorf or Bohemian village.

Some places of cultural interest in Neukolln:
The 18th century Schloss Britz is an elegant stately home and a museum and, concert and exhibition venue.
The Islamic cemetry
The Turkish market
The fascinating Puppet Theatre-Museum
The water park Neukolln Columbiabad
The avant-garde opera house Neukollner Oper.
The park Volkspark Hasenheide has heather and rose gardens and gymnastic trails, plus the Stadtbad Neukoelln, a restored old spa known for its beautiful stained glass skylight. The public spa officially opened in 1914 with eight different saunas, exclusive mosaic and Yugendstil architecture. After six year of renovation it reopened in 1998, completely renovated with all historic details preserved.
Britz
Britz was mostly built in the 1920s, for working-class families. One of the most interesting developments is the horseshoe building of the Britz Estate, with over a thousand terraced units.
Gropiusstadt
Gropiusstadt has a poor reputation. It was built between 1966-1975 by the famous architect Walter Gropius, and originally housed 35,000 people over 264 hectares. The development's slogan was: "Licht, Luft, und Sonne!"
Unfortunately, the city built the buildings higher and denser than Gropius wanted, and added extra parking places, and also eliminated some of the large green spaces he envisaged. It originally accommodated over 35,000 residents but quickly became notorious as a problem zone. The high-rise area today houses around 40.000 people and has a questionable reputation.
Nevertheless, the area is green, and the buildings are quite attractive. There's mixed-level and income housing, allowing for the "housing career" of potentially upwardly mobile income earners.
---