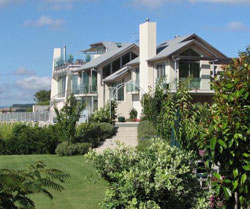 The Nelson Region was named after the hero of the Battle of Trafalgar, Admiral Lord Nelson. Its administrative centre is also called Nelson. The roads and popular areas in the city are named after people and ships related to the famous battle, including Trafalgar Street, its main shopping area.

The region is considered an important gateway to three National Parks: Abel Tasman, with its spectacular sea and coastland, rocky headlands and golden beaches; Nelson Lakes, with its breathtaking mountains, glaciers and reflection lakes like Rotoiti and Rotorua; and Kahurangi, famous for its hiking trails and scenic views that served as backdrops for The Lord of the Rings film trilogy.
Other famous natural attractions are the freshwater springs of Te Waikoropupu Springs and the bird sanctuary of Farewell Spit.
Nelson is famous for its artists and craftspeople. A popular annual event is the Montana New Zealand Wearable Art Awards, at which artists who have worked for months to create wearable works of art are able to show off their work. Many of the designs are on display at the World of Wearable Art museum.
Nelson has achieved worldwide acclaim for its wines. The Mediterranean-style climate makes it an ideal place for growing specialized vineyards. The region is particularly famous for its Sauvignons Blanc, Chardonnays and Pinots Noir.
---