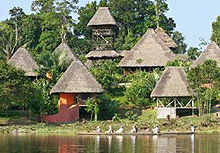 The climate is hot and humid on this side of the Amazon rainforest, yet the province of Napo continues to attract tourists, largely due to its contrasting yet wondrous landscapes. Nature enthusiasts can explore Napo's Limoncocha National Biological Reserve, the home of hundreds of species of spiders, piranhas, alligators, toucans, parrots, butterflies, and orchids.

The much-admired Yasuni National Park, home of the indigenous Huaranis and Alamos, can be found in this province as well. The Jatun Sacha Biological Station is also a rainforest reserve that carries out research and developmental and conservation projects in the rainforest. At the top of the Sumaco Volcano is an exhilarating view of the majestic rainforest. The Napo River rises in this province and provides excellent rapids for white water sports adventures.
Tena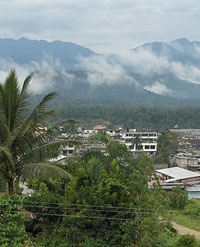 The quiet and captivating city of Tena is the cinnamon capital of Ecuador and the capital of Napo. It is a relatively orderly and peaceful place that is beginning to draw foreign and local tourists.

Tena has a plethora of bars and restaurants. Discotheques are packed with young locals, volunteers, and foreign and native guides on Friday and Saturday nights. Backpackers on their way to the rainforest will find tourist agencies, affordable hotels, and shops during their stopover here.

The main plaza's two-steepled blue and white cathedral is one of the town's best architectural attractions. The Parque Amazónico is a protected reserve of forest area and waterfalls that over 135 animal species call home.
Baeza
Baeza in Napo is one of Ecuador's older towns. Like Quito, it has colonial and modern districts. But unlike Quito, the newer part of town is referable to the old. Baeza is famous for its spectacular natural settings, a town in the middle of protected reserves and cloud forests, not far from the splendid Quijos Valley.
Misahualli
Misahuallí, like Tena, is a good jump-off point to the Amazon rainforest. Although Misahuallí's piece of jungle is not virgin anymore, it still has several species of butterflies and birds, and extensive tropical vegetation. The town has nice crafts shops, cafés, and rustic yet cosy and charming lodgings.
Archidona
Established in 1560, the quaint, quiet town of Archidona is worth a quick stopover mainly for its church, which has an interesting striped façade. Monkey fans might be delighted to find them roaming free in this part of Napo, while those intrigued by mysterious prehistoric signs and symbols would have an interesting head-scratching time trying to crack the petroglyphs carved on a very big rock near the river south of Archidona.
---