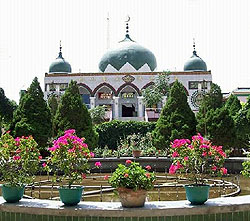 Nanhui (a prime area) is famous for beautiful peach trees and gardens that flower and bloom throughout the year. These blooms are so integral to Nanhui's image that residents celebrate an annual Shanghai Peach Flower Festival at the Nanhui Peach Flower Village, which integrates visual, historical and cultural elements, and makes for a wonderfully leisurely visit. Aside from peach trees, Nanhui is known for the colourful flora and fauna in the protected confines of the Shanghai Flower Port and the Shanghai Wild Animal Park.

Nanhui's mix of the rural and industrial appeals to professionals working in Shanghai's booming shipping industry.

Many visit the centuries-old town of Xinchang. Stone bridges and archways line this idyllic town, which is surrounded by water. Xinchang has wonderfully preserved old residences, temples and churches.
Nanhui's prime residential area is the suburb of Kangqiao, which has gated communities, mostly modern villa estates with spacious yards. Kangqiao is a popular choice for families with children.
---