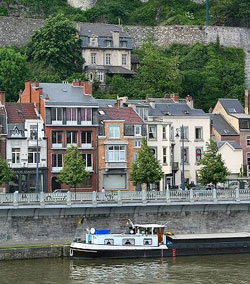 The seat of the Walloon government is in the city of Namur. Its most famous landmark is the looming, 1500-year-old fort called the Citadel, situated at the strategic location where the Sambre and Meuse Rivers. Other old buildings in Namur are the sombre, Italianate St. Alban's Cathedral and the 16th century meat hall, the Halle Al'Chair, which is now an archaeological museum.

Most visitors wishing to hike up the mountains of the Ardennes start at Namur. They can also visit the range's underground caves which are also accessible from the city.

Just outside the city proper, the Namur countryside is dotted with monasteries and castles. One of the most famous of these is the Chateau d'Annevoie on the river Meuse. Its sprawling grounds feature beautiful 18th century fountains, waterfalls and symmetrical gardens that are worth a stroll through.
Namur is edged by the Ardennes range of mountains and forests and crisscrossed by the Sambre, Lesse and Meuse rivers. It is part of the Hesbaye plateau, and some places in the province are several hundred metres above sea level.
Being part of the area known as the sillon industriel, Namur is an important commercial and industrial centre, producing leather goods, ceramics and metal ware. Raw materials are still extracted from the coalmines and limestone marble and slate quarries, and steel works, and glass and chemical industries flourish.
---