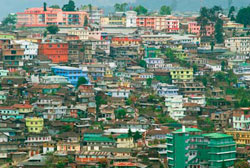 Nagas speak 60 different languages, belonging to the Sino-Tibetan language family, and are Tibetan-looking. They are known for their war dances, and woven designs. Nagaland is mostly tribal, 90% Christian, mostly Baptist.

Nagaland was formerly part of Assam, but the Naga tribes were not happy with this. After disturbances, statehood was granted in 1963.
Nagaland is very mountainous, and has a monsoon climate, very humid, with as much as 225 centimetres of rain a year, mostly in May-September. It rarely feezes in winter, except at higher altitudes. Nagaland has rich flora and fauna, and dense tropical forests. Rivers criss-cross the state.
Kohima, the capital, sits on top of a high ridge, looking at the surrounding mountains. It is home to the Nagaland State Museum. Despite its altitude, this town's climate is moderate, not too cold in winter, though there is snow on the higher peaks.
---