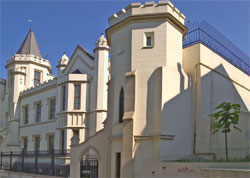 The oblast of Mykolaiv (also called Nikolaev) in southern Ukraine has a coast on the Black Sea, a port, and an international airport. Yet it is also one of the least densely populated districts in the Ukraine. More than half of its residents live in its cultural, industrial and administrative urban centre, Mykolayiv.

The oblast has some sites of cultural and historic importance, including Olbia, an ancient Greek colony known as "the city of wealth" that is now an archeological reserve. It has been nominated for the Seven Wonders of Ukraine.
Mykolaiv is largely driven by the food processing, consumer goods and machinery industries, though its moderate, continental climate and good terrain also make agriculture an important factor in the oblast's economy.
Mykolaiv's location on the Black Sea and its proximity to the industrial Donetsk-Dnepr region make it attractive to businesses.
---