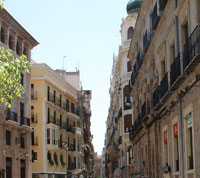 Murcia's beaches attract a number of tourists, but not nearly as many as the more famous coastal regions. It has good golf and tourist facilities, at the high-class La Manga Club near the vast saltwater lake Mar Menor - Europe's biggest saltwater lake. Big golf resorts as well as housing developments are currently in the works. Murcia intends to rival Andalucia as a top golfing destination.

Murcia has some outstanding historic sites, like the 12th-century castle of the Renaissance town of Lorca, and the old port at Cartagena. Murcia City (where a third of the province's 1.4 million population lives) features a medieval cathedral; an 18th-century church, Santa Ana; an elaborate 19th-century casino; and a Bishop's Palace.
Murcia's climate is rather dry: the sky is completely clear for about a third of the year. Water supply is a major concern. The Segura River is its main source of water, as there is little rainfall much of the year.
Murcia is an important producer of fruits, vegetables, and flowers.
Unique Murcian specialties include the cakes baked by the nuns of the Enclosed Order, which they must pass to their customers using a revolving hatch. There's also the traditional red wine made in the hill town of Jumilla.
---