Up to the late '80s, Muntinlupa City was known as the place where the country's maximum security prison was located. Alabang itself was empty land full of tall cogon grasses.
Today however, Muntinlupa is known for the upscale Ayala Alabang Village.
Alabang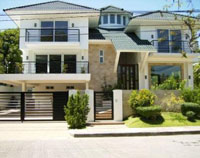 The name Alabang conjures images of large properties owned by the rich and famous. Accessible through the South Luzon Expressway, Alabang began its existence in the mid '80s and has become a leading development in the southern part of Metro Manila.

Two giant real estate developers have made their mark in the area. The gated Ayala Alabang Village and its commercial centre was built by one, and Filinvest Corporate City (a business and commercial hub that includes a shopping mall, a restaurant village and a corporate block) was built by the other.

Alabang is approximately 25 minutes away from Makati City (depending on traffic). Many former Makati residents have opted to move to Alabang to get away from the congestion and pollution of Manila. Ayala Alabang Village has high property values due to the quality of the area—wide roads, its own water pumping station and other amenities have made this village quite popular to those who can afford the price.
Alabang is only a short drive away from popular weekend destination Tagaytay City and the resorts and dive sites of the provinces of South Luzon.
Aside from the two shopping centres—Alabang Town Centre and Festival Supermall—there are several sports facilities in the vicinity. Alabang Country Club is located within the Ayala Alabang Village and has polo and golfing facilities. Outside the village is the Palms Country Club which also has a variety of sports facilities such as tennis courts, swimming pool and a kiddie centre. A driving range is also located a few metres away.
The Asian Hospital and Medical Centre is located by the expressway exit. It is one of the newest hospitals in Metro Manila and boasts of state-of-the-art medical equipment and hospital rooms that almost look like hotel rooms. The Ospital ng Muntinlupa is also in the vicinity.
The Northgate Cyberpark was created to attract IT-related businesses, and the Madrigal Business Park is aimed at attracting the businesses of Alabang residents to further encourage others to relocate here.
There are still areas of Alabang that have yet to be developed. Its proximity to Southern Luzon makes Alabang a key investment area.
---