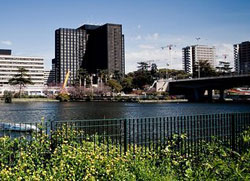 In a quiet area of Rome lies the EUR, (prime area) an oddity of a suburb that was originally created to host a 1942 expo that never took place. EUR has stately buildings that reflect the bombastic Italian Fascist style of the 1940's most strikingly in the case of the monumental Palazzo della Civilita. The district also includes vast park areas and a small artificial lake. A row of scarcely-attended museums sits along the traffic-heavy Via Cristoforo Colombo.
EUR, with its fascist monuments, can be a bit unsettling. In a way, it suggests an alternate reality in which the Italian Fascist rule never ended, while simultaneously making plain the abandonment of that past. Yet it is a thriving commercial area, with a healthy selection of shops, restaurants, and bars catering to EUR's large office worker population. Many large companies and a few ministries have their offices in EUR.
EUR is easily accessible to the rest of Rome by bus or Metro. It is a peaceful area, so much so that it is a bit dull at night.
---
Find properties for sale in Municipio XII. Eur (Esposizione Universale Roma), Italy