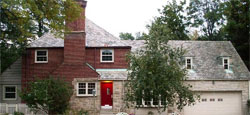 Geographically speaking, "Mount Lebanon" refers to the country's Western Mountain Range, which is noted for its snowy peaks and oak and pine forests. It is also here where one could find the remaining groves of the famous Cedars of Lebanon.

In the administrative sense, Mount Lebanon is a governorate of Lebanon, which also known as the "Heartland of Lebanese Christians" because its population is predominantly composed of people belonging to various Christian denominations, such as the Maronites, Greek Orthodox, and Greek Melkite Catholic Christians. It is also, however, home to many Muslims, including a Druze community.

The governorate is divided into 6 districts: Baabda, Aley, Matn, Keserwan, Chouf and Jbeil.
---