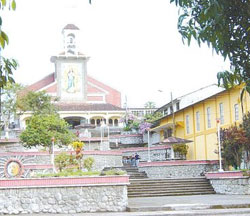 Morona-Santiago is less developed and not as tourist-friendly as the other provinces; this is mainly a problem of accessibility. This is an oil and mining region. It is also the home of the Shuar, an indigenous Amerindian people and one of those who became known for their tradition of shrunken heads.

There is quite a bit of upheaval in Morona-Santiago, owing to disagreements between the government and indigenous groups about native people's rights and about oil-drilling in the region.
Macas
Morona-Santiago's capital city plays a crucial role in the region's commercial activities. Its 32,000 inhabitants enjoy a splendid view of Mount Sangay from their small, developing city in the middle of a rainforest. The forest has been well-preserved thanks to its indigenous guardians from the Shuar and Achuar tribes. The two groups have been adamant about protecting the area from capitalists that wish to exploit the forest's natural resources, particularly petroleum.
Discos that play live music and restaurants that specialize in Chinese and Cuban cuisine can be found in Macas. Other institutional markers of modernity here include the Cathedral of Macas, which was completed in 1992 to celebrate the 400th anniversary of the painting of the Virgen de Macas. Also known as "La Purísima de Macas," the painting is reported to have undergone mysterious changes in the last few centuries. The changes are depictedin the church's stained glass windows.
From the church is a lovely view of the Rio Upano valley and streams, an excellent vantage point for bird-watching. Also worth a visit is the Centro de Interpretación, which furnishes information about the Parque Nacional Sangay. The park, a UNESCO Natural Heritage for Humanity, is a sprawling 517,000 hectares, with three of Ecuador's highest volcanoes—Sangay, Altar, and Tungurahua—as its major occupants. There is also the Kapawi Ecological Reserve, a superb jungle lodge standing on Achuar Indian land.
---