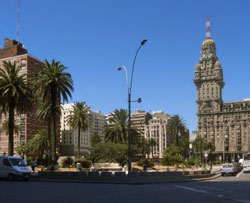 Uruguay's largest city, Montevideo, is also the country's capital and the capital of the department of the same name. It is the city with highest quality of living in South America, according to the Mercer Quality of Living rankings for 2009.

Compared to other important South American cities like Buenos Aires and Rio de Janeiro, Montevideo may not seem like much. It only has 1.3 million inhabitants and not a lot of skyscrapers. It is not particularly ostentatious, and when people want fun they often go to its neighbor, the small but ritzy resort town of Punta del Este.
Instead, Montevideo has a wealth of old buildings and museums, and a downtown with interesting shops, markets and outdoor cafés. The city does have some nightlife: bars play candombé—Uruguay's homegrown musical form—and tango all evening long, and clubs start filling with people some time after midnight.
Montevideo was the site of the sinking of the German pocket battleship Admiral Graf Spee during World War II. The battleship's eagle figurehead was salvaged in 2006, although its swastika emblem was removed in deference to anti-Nazi sentiments.
The city is making an economic comeback following the military dictatorship of the mid-20th century. Much work still needs to be done, with some areas suffering from poverty, unemployment and high crime rates.
---