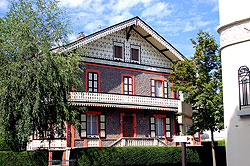 Moneghetti (a prime area) is known for its steep inclines, as it is the area where the Alps drop down into the Mediterranean Sea. The bends are sharp and the steps and roads seem endless here. Moneghetti is a fine area with beautiful villa homes and finely manicured gardens. The district has its own parish church, the Sacred Heart.

A cascade of bougainvillea blooms greets the visitor at the entrance of Parc Princesse Antoinette, a family favourite with its children's playground, mini-farm, little golf course, play house and playing fields. A somewhat more restful area in the park is its grove of 100-year-old olive trees.
The park is close to the Boulevard de Belgique, and its upscale apartment buildings.
---