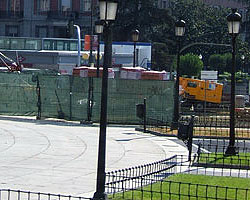 This is a student district, close to Madrid's Universidad Complutense, and home to the sprawling Ciudad Universitaria Campus. Many students can be seen hanging out in the cafes and wine bars of Moncloa.
Most of this district is on a woodsy hill, around the small rural area of Aravaca. The Spanish Prime Minister's residence is in the area. Calle de la Princesa is a good place for shopping.
The sub-district of Argüelles is conveniently close to central Madrid. It hosts Parque del Oeste, one of Madrid's most attractive parks; the lovely La Rosaleda rose garden; and the Ancient Egyptian-style Temple of Debod. Argüelles has stylish new buildings, mostly 4-5 stories high, and equipped with underground parking.
---