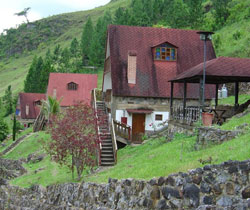 The state of Monagas is typical of Los Llanos—a land of wide savannas and plateaus, with some marshes on the Orinoco, and the coast in the north. Its economy is based in the oil industry and agribusiness. It has a significant production of cotton, sugar, coffee, banana, yucca, meat and milk. Constant development takes place particularly in the agricultural sector, with palm oil extraction slowly being tapped for commercial use.

Monagas' capital is Maturin, a city that bustles with great commercial activity. Cost of living here is high due to the establishments of oil fields.
Monagas counts the Guacharo Cave National Park and the Alejandro Humboldt Speleological Museum within the park as its popular attractions. The Guacharo Cave was the first to be declared Venezuela's Natural Monument. It features spectacular limestone formations. It got its name because thousands of oilbirds, or guacharos, make their home in it.
---