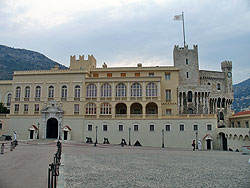 Monaco is a dense, skyscraper-covered little city, somewhat like a mini-Hong Kong, but with less charm.  Its narrow, medieval streets and vaulted passageways are flanked by hotels, souvenir shops, and restaurants. If you like Macau or Las Vegas, you may be attracted by the glitz and smell of money.

Going up the Rampe Major, a sloping red-brick path, will take you from the Place d'Armes in La Condamine to the heart of Monaco-Ville: the Palais Princier, the home of Monaco's ruling family. The palace has a beautiful, wide-angled view of the port and all of Monte Carlo. Over the centuries, it has been continually altered and expanded with the reign of each prince. It houses a fantastic collection of furniture, tapestries and paintings. Several rooms, including the Throne Room, are open to the public daily. Tourists time their visit with the Changing of the Guard that takes place right before noon on the Palace Square every day.
Right next door to the Palais Princier is the Cathédrale de Monaco, also known as the Saint Nicholas Cathedral. This 13th century Romanesque-Byzantine church contains the remains of Princess Grace and Prince Rainier.
Not far away, the Oceanographic Museum sits on a cliff facing the sea. With finely crafted model ships and 90 seawater tanks holding living coral and 350 species of fish, it is the best aquarium in Europe. The museum, built in 1910, also boasts a seismological observatory and a meteorological station. The great marine explorer and conservationist Jacques Cousteau was its director for many years.
---