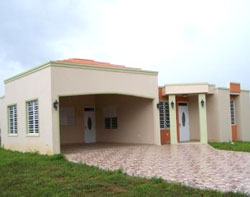 The town of Moca got its name from the beautiful pink and purple flowers of the towering, but poisonous, moca tree, which is endemic to the region and which was previously used to treat worm infestation.

Moca is an industrial hub for manufacturers of shoes and apparel, and electronic products. There are also small plantations for sugarcane and other crops.
However, Moca's claim to fame is the mundillo, or bobbin lace. Employing a special knitting technique that has been passed down from generation to generation, expert mundillo knitters create truly beautiful, artistic laces that are in great demand all over the world. Mundillo lace is often found adorning curtains, linens, tapestries, shawls and wedding gowns.
The history and artistry of the mundillo knitters are showcased in the Museo del Mundillo de Puerto Rico. Tribute is also given to these talented women in the Festival del Mundillo, held every December.

Moca has a few notable landmarks. The Hacienda Enriqueta is a small museum that exhibits relics and artefacts from the Spanish colonial period. The beautiful Our Lady of Monserrate Parish was erected in 1846 and is considered a historical monument. The Palaute Los Moreau is a representation of the French provincial-style mansions that were once common in Moca.
---