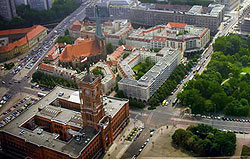 Mitte is Berlin's political and cultural hub. Most of Berlin's government institutions, historic sites, and tourist attractions are located in Mitte.

Important landmarks:
The Museum Island in the Spree River, with its art and antique collections;
The State Opera
The Holocaust Memorial
Berlin Zoological Park, famous for housing more species than any other zoo in the world.
There are many restaurants, bars, cafes, theatres, and galleries, concentrated in the old Central district. Many period buildings line the Unter den Linden Boulevard. Many government offices and embassies, and the Houses of Parliament, line the two sides of the boulevard, with some attractive parks and squares tucked around.
Mitte is also a centre of transportation, with a recently-built railway station, and a new underground line in the making.
Mitte
Mitte has become a prestigious area since re-unification. There are a lot of striking new contemporary buildings. There are many restaurants, nightclubs, bars, cafes, theatres and galleries.
Many of the new buildings were designed by four different Berlin architectural offices. Pride of place went to the Berlin architects Goz Bellmann and Walter Bohm. The idea was to build a modern interpretation of historical building details.
Important historic sites in Mitte include:
Checkpoint Charlie, the (previously) heavily guarded border between the East and West Berlin.
Brandenburg Gate, the symbol of Berlin
The State Opera
Humboldt University
Humbolt University was founded in 1810 to encourage research and study in an environment of complete academic freedom. This revolutionary concept, a dramatic innovation in Germany, was then followed by other German universities.
At least 29 Nobel prize winners studied or did research at Humboldt. Famous philosophers Karl Marx, Hegel and Schopenhauer were either students, or professors, here. In the field of science, Einstein, Max Planck, Robert Koch and Behring, to mention only a few, studied and did research at Humbolt University.
During the Nazi and Communist periods, the university's teaching was severed from its founding liberal ideas. Humbolt University became part of the authoritarian regime's propaganda apparatus.
This area is home to Friedrichstrasse, an upscale commercial avenue.
Oranienburger Strasse
is a centre of nightlife. It used to be the hub of Jewish culture in Berlin.
Hackesche Hofe,
outside the Spandau gate, boasts interesting stores, cocktail bars, and lovely squares.
Moabit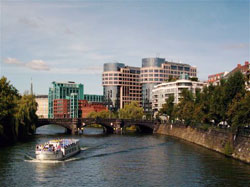 Moabit has had a long and honourable left-wing tradition, with much working class housing. Built along the river Spree, it became highly populated during the industrial revolution. But its population is now less than half its peak level. Prior to re-unification, Moabit was part of West Berlin. There is still some light industry.

Since reunification Moabit has become a central district, and the new Hauptbahnhof railway station lies in its eastern side. A main attraction in Moabit is the historic area Stephankieze, with its Grunderzeit quarter, which has many well-preserved historic buildings.
Tiergarten
Tiergarten is dominated by beautifully designed buildings, both period and modern. Only a few survived the Second World War, and today some are in dire need of restoration.
This is where the government buildings are found, including the Houses of Parliament and Schloss Bellevue, the German President's official residence. Foreign embassies and large multinational companies have offices here.
Potsdamer Platz, which was once the no-man's-land bordering the Berlin Wall, is also in Tiergarten. It has become an attractive space with modern buildings, including the Ritz Carlton Hotel and a big entertainment complex with restaurants, cafes, and movie theatres. Other cafes, restaurants, and boutiques can also be found in Berlin's newest railway station, the Hauptbahnhof, built in a very modern and futuristic style.
Tiergarten is famous for housing Berlin's largest park and the Zoo, after which the area is named. The huge park has woods, lakes, and hiking trails, and is a favourite for barbecues in summer.
Wedding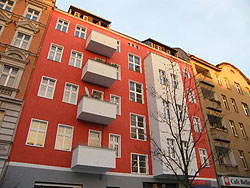 Wedding is an old working class district. Scenes of rioting often occurred during the Weimar Republic as the recession of the 1930's took its toll (there was famously bloody riot in 1929). Wedding still is one of Berlin's poorest areas, with many foreign immigrants, specially from the Middle East. Social unrest abounds, especially involving immigrants from Vietnam.

This area has retained its traditional character more than most Berlin working-class areas, despite creeping multiculturalism. Many traditional Berliners live here, and the Berlin dialect is widely spoken.
There are some classical residential buildings, but they are mostly dilapidated, as are the enormous pre-fabricated concrete developments.
There are many old tenement buildings, without central heating or modern bathrooms. However, some parts of Wedding are attractive, with good shopping. There are also pleasant spots like Humboldthain Park and the lake Lietzensee.
Hansaviertel
Hansaviertel along the Spree River was developed in 1952. It received the attention of renowned architects such as Alvar Aalto, Egon Eiermann, Walter Gropius, Arne Jacobsen, Oscar Niemeyer and Max Taut. Some 1160 apartments were built in 35 developments, including both high- and low-rise buildings around a plaza, with plenty of greenery, play areas, and recreational facilities.
Gesundbrunnen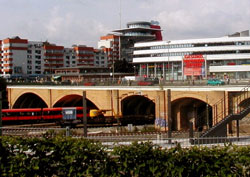 Gesundbrunnen, part of what used to be West Berlin, was developed towards the end of the 18th century as a bourgeois pleasure area, with gardens, restaurants, and theatres on its Badstrasse.

Gesundbrunnen became industrialized in the 19th century, and was transformed into a mainly working-class district. It is not particularly attractive. Recently there have been efforts to redevelop the area.
---