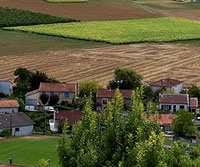 Midi-Pyrénées is the largest region of metropolitan France. But outside the urban area of Toulouse, the rest of the region is strikingly sparse in population and largely agricultural.
Midi-Pyrénées is mostly hilly countryside, warm and very sunny. Winters are mild and gentle.
The region has a key tourist attraction in the town of Lourdes, which is especially popular with Catholics on religious pilgrimage.
The capital city, Toulouse, is a hi-tech centre for aeronautics, electronics, information technology and biotechnology. Toulouse is a highly dynamic city, partly because of the influence of Dominique Baudis, mayor between 1983 and 2001. The city is the base of operations for Airbus, the SPOT satellite system, and CNES's Toulouse Space Centre (CST), Europe's largest space centre.
First known as a journalist, Dominique Baudis succeeded his father Pierre Baudis in 1983. During his time as mayor, Toulouse boomed.  Baudis strengthened the city's international role, and pushed its cultural heritage. Many cultural institutions were created. For example, monuments dating from the time of the counts of Toulouse were restored, the city's symphonic concert hall (Halle aux Grains) refurbished, a city theatre was built, a Museum of Modern Art founded, the Bemberg Foundation was established, a huge pop music concert venue was built, the space museum and educational park Cité de l'Espace were founded. Housing and transportation projects were launched, including the Toulouse Metro, and an extensive system of underground car parks. Despite all these undertakings, Baudis announced, in 1999, that the city had finished repaying its debt, the only large city in France ever to achieve solvency.
The University of Toulouse, established in 1229, is now split into three separate universities. Toulouse is the second largest university campus in France after Paris, with more than 120,000 students attending its three universities.
The city also has a name in sports, being home to a popular rugby union team, Stade Toulousain.
Toulouse has its own gastronomic specialty in Saucisse de Toulouse, a traditional herb sausage.
---