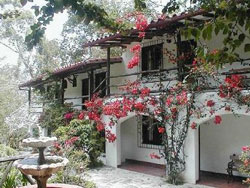 The state of Merida occupies the middle spot in the Venezuelan Andes, giving it a temperate mountain climate with some dramatic variations from area to area. It is a very attractive state having a diverse landscape and an unpolluted countryside of lakes, valleys, and rivers.

The state's capital city, Merida, is in the valley of the river Chama and is the centre of education in western Venezuela. It is the seat of the University of the Andes and of a number of science and technology institutes.
The city is the base for tourism and has the highest and one of the longest cable cars in the world. It has many parks and museums, and it is where cultural and sports activities are held. Historically, it is where Simon Bolívar was proclaimed as the Liberator.
As a large number of students live here, Merida has taken on a hip and modern vibe. There are plenty of shopping centres, cinemas, restaurants and nightclubs. On a quirky note, an ice cream shop here holds the Guinness World Record for having the most number of flavours – about 1000 and includes unusual flavours like Ham and Cheese, Calamari and Shrimps.
---