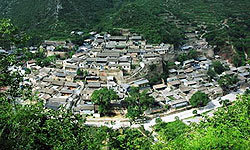 West of Beijing is the enormous Mentougou District, a very mountainous region. Beijing's Western Hills take up nine-tenths of Mentougou, providing the district with granite, limestone and coal. Its climate and terrain allows Mentougou to supply Beijing with white pears, roses and mushrooms.

Mentougou was not part of Beijing until the early 1990s. It still remains largely rural, a popular tourist destination, with numerous sites to visit.

There are the Lingshan Mountains, whose highest peak is 2,303 metres high; the vast forest park of Xiaolongmen abundant with over 844 varieties of flora, Baihua Mountains with the noted Beijing Botanical Garden, and Miafeng Mountains bursting with the scent of pines and, in summer, with oceans of roses.
Mentougou also has over 300 cultural and historic sites. Notable are the ancient and idyllic villages of Cuandixia and Juren, and the 1,700-year-old Tanzhe Temple built during the Ming and Qing Dynasties.
---