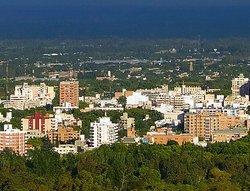 Mendoza is the heart of the country's viticulture industry, the home of the famous Argentine wine. It is located in the western central part of the country, and experiences predominantly dry weather year-round.

Mendoza also has a thriving bee farming industry and is a main producer of important crops (although mainly for the Argentine market) such as apples, pears, plums, tomatoes, onions, olives, cherries, peaches, and quince. The province also receives many tourists from Chile.


Mendoza City
On their way to Mount Aconcagua, the highest mountain in the Americas, tourists often stop at Mendoza City. It is the capital of Mendoza Province and has many attractions in its own right—olive groves and vineyards set against the backdrop of the Andes (Mendoza is Argentina's main wine-producing region, and is a major source of olive oil as well), top ski resorts, large parks marked by monuments, busy plazas where locals and tourists congregate everyday in restaurants and cafés, and bars and clubs that light up the evenings.
Mendoza City draws a lot of expats. Popular and relatively safe places for them are the city centre (including the city's main square,
Plaza Independencia
, and its environs) and the suburban district of
Chacras de Coria
.
---