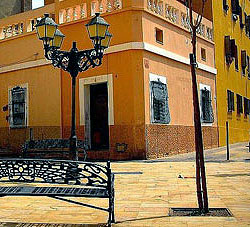 Melilla, the lesser known of Spain's two North African enclaves, is a small city surrounded by Morocco. It has wonderful vast beaches, with fine sand. Part of Spain since 1497, it has a mix of Spanish and Moorish architecture.

Melilla has the only example of true Gothic architecture in Africa: the Capilla de Santiago. It has almost as many significant Modernista structures as Barcelona. Its Central Mosque is especially magnificent.

Melilla is a pleasant, clean, and fairly prosperous city. It has a delightful marketplace. It is quite multicultural, with many Christian and Muslim inhabitants, plus small Jewish and Hindu communities.
Its cuisine has an Andalusian flavor, but more exotic. The seafood dishes, kebabs, and couscous are excellent.
---