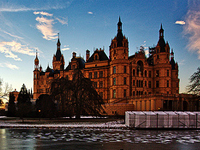 Mecklenburg Vorpommern consists of two regions: Mecklenburg and Western Pomerania. It boasts a vast, unspoilt, largely rural terrain, rich in natural beauty. There are hundreds of nature reserves and three national parks here.

Many medieval castles dot the countryside. On an island linked to the city, Schwerin there is the romantic Schwerin Palace, surrounded by parks. In 973 the journals of the Arab traveller Ibn Yacub mention "a castle surrounded by sweet water". The castle was burnt in 1160, then partly rebuilt under Count Magnus II between 1477 - 1503.
There's a lot more to see in Schwerin, the such as the gothic cathedral, and the Town Hall built Tudor-style. Then, there are sandy beaches.
The Schelfstadt (old historic centre) has the biggest display of historical architecture in Schwerin. Duke Friedrich Wilhelm wanted to build an area in 1705 as a Neustadt, or new city, to accommodate merchants and businesspeople and to contribute to the prosperity of the city. Today, countless half-timbered houses remain in the surrounding streets, only few steps away from the baroque church.
Mecklenburg-Vorpommern boasts a vast, unspoiled, largely rural terrain, rich in natural beauty. There are hundreds of nature reserves and three national parks here. The state lies along the coast of the Baltic Sea and there are some offshore islands that are also part of the state. The beaches of this state as well as its cities and Mecklenburg Lake District attract huge numbers of tourists who glory in the pure air and the warm sun of the Baltic Coast. The waters of the thousands of lakes in this state as well as the sea are exceptionally clean.
This state boasts a large number of architectural treasures. There are over a thousand castles, palaces, and manor houses dotting the picturesque landscape. Some of these grand old buildings are now used as cultural venues. Wismar and Stralsund, both historic towns, have been named UNESCO World Heritage sites.
The historic architecture of the cities is dominated by a style common in Northern Germany; typically mediaeval churches and other buildings are in late Gothic style and made of red brick. Most old towns are centered upon their marketplaces, with the church and town hall nearby. Coastal towns by the Baltic Sea or the lakes in the state are common.
The state has a very low population density. It is a very relaxing place, with its pleasant climate, refreshing mix of coast and woods, and highly-rated resorts.
---