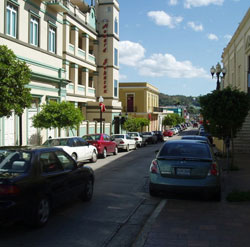 The third largest city in Puerto Rico is Mayaguez, which is also known as the City of Pure Waters for the Yaguez River that flows from the Central Mountain Range through the city's downtown area.

Mayaguez is home to Puerto Rico's second largest harbour, which has been instrumental in the city's development as an industrial region. It is also the island's "Tuna Capital"; it is estimated that 60 percent of the tuna consumed in the U.S. is canned in Mayaguez. In fact, big tuna brands StarKist and Bumblebee have tuna processing and canning factories in the city.
Mangoes are also in abundance in the region. Favourite local food and drinks include the special jelly roll, brazo gitano, and the local custard, flan-es-cedo; the ice creams of the Rex's Cream parlours; the sandwiches and salads of the El Meson Sandwiches fast food chain; and the wines, specifically Wilfredo Aponte's Sangria de Fido and India/Medalla Beer produced by Cerveceria India.
The city is fast becoming a hub for quality college education. Here, you can find the University of Puerto Rico-Mayaguez Campus, which is the leading science and engineering institution in the Caribbean. Other notable universities are the College of Agriculture and Mechanic Arts, Eugenio Maria de Hostos Law School, and the Pontiff Catholic University of Puerto Rico.
It is not all business and education in Mayaguez. Those who want to get close to nature can visit the Juan A. Rivero Zoo (or simply the Mayaguez Zoo). The Maricao Forest Preserve is the best place to go if you want to see and hear the characteristic cricket-like chirp of the little coqui frogs. If your interest is in botany, you can find the Tropical Agricultural Research Station at the University of Puerto Rico, with its collection of exotic plants and trees, including the traveller's tree, shower of orchids, Ceylon cinnamon and pink torch ginger.
Presently, major upgrades are being done in the city in anticipation of the 2010 Centro-American and Caribbean Games and the 2011 Caribbean Series. Property values are expected to rise as roads and transportation facilities are improved.
---