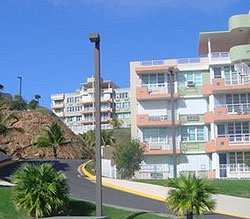 It is said that the pristine beaches and inspiring sceneries of "La Ciudad Tranquila de Maunabo" calm the mind and give peace to the soul.
Its three main beaches rarely see tourists, but those who do end up roaming this area of the Puerto Rico coastline are immediately drawn to the strong waves that are ideal for surfing.

The most popular of the three beaches is Los Bohios, which has a well-known restaurant. Los Pinos Beach has a lovely hill of pine trees at one end, but its sands are rich with black carbon minerals that stick to anything wet and are very difficult to wash off. The main attraction of the Playa Punta Tuna is its lighthouse, which was used by the U.S. Coast Guard for 30 years.
The three major mountain peaks of Maunabo are favourite places for nature lovers and hikers: Pico Hutton, Cerro Santa Elena (also called El Sombrerito because it is shaped like a hat) and Cerro de la Pandura.
At present, tunnels are being dug through the mountains that would connect the town to nearby Yabucoa. This project has been proposed by environmental activist Vicente Morales Lebron, who saw how the town was cut off from its neighbours following major damage on Maunabo's only road at the height of Tropical Storm Betsy in 1956. It is hoped that the tunnels would bring economic opportunities and urban development to Maunabo.
---