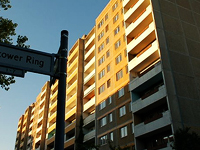 Marzahn-Hellersdorf, in the former East Berlin, was mostly built in the 1970s-1980s. It has many large communist-era concrete housing developments, plus newer housing projects like Honow and Ahrensfelde-Sod. The area has a poor reputation, with a high crime rate and other social problems.

Over the last 25 years, there have been many changes in Marzahn-Hellersdorf's population. First the Marzahn and then the Hellensdorf areas attracted young families with small new residential developments. But at the same time, the population of older housing developments decreased, as their cramped Soviet-era housing became increasingly unpopular. Rents are now among the lowest in Berlin.
Of the 250,000 who live in Marzahn, 70% life in prefabricated blocks, which were secretly modeled on Le Corbusier's vertical garden cities. It was one of the first housing areas to be refurnished after reunification, and is now almost completely refurbished, with balconies and elevators now standard. Some of the tower blocks have had up to 7 storeys lopped off the top, and repainted in more cheerful colours.
There were few big stores till the recent construction of Eastgate Berlin, one of the biggest shopping centres in the former east Berlin, with over 50,000 square metres of shopping and entertainment facilities. It is a striking landmark, with a modernistic curved roof, which has breathed new life into a previously derelict part of Marzahn.
Therark Marzahn has recreational facilites and playgrounds, with one of Europe's largest Asian-themed gardens, the Garten des Wiedergewonnen Mondes, and a tropical Balinese Garden housed in a greenhouse, and a Japanese Walled Garden.

A historic attraction is the Bockwindmohle Marzahn, a working windmill where flour is still ground.


Marzahn
The Marzahn area was once a small village. In the 1970s on it became dominated by concrete pre-fabricated buildings, but recently some have been demolished.
Following reunification, retail and recreational facilities were built, and since 2000, new housing developments. Marzahn has a park and other green spaces.
Biersdorf
Biersdorf developed from a village in the 1900s. The first electric trams were developed here. It has a historic castle, the Schloss Biersdorf, surrounded by a leisure park. There is also a commercial park. It has many new residential developments.
Kaulsdorf
Kaulsdorf, on the edge of Berlin, is surrounded by valleys and rural areas. It has a lake, and is popular with young families because of recreational facilities. It is also easy to get to the centre by S-Bahn and U-Bahn, which each take about 15 minutes to the centre.
Mahlsdorf
Mahlsdorf is a spacious, sparsely populated area on the eastern outskirts of the city. Once a village, its main attraction is Gruenderzeit Museum, which houses a private collection of late 19th-century furniture and mechanical musical instruments, assembled by Charlotte von Mahlsdorf.
Hellersdorf
Hellersdorf is dominated by 1980s concrete pre-fab buildings, and most of its population resides in huge apartment complexes.
There are still some older residential developments and village buildings. It is a very green area, with many parks and playgrounds, and is near Brandenburg, with its lakes and forests.
---