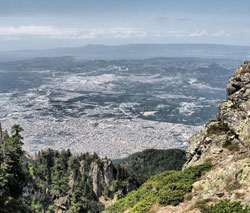 Marmara in northwestern Turkey is the country's smallest and most densely populated region. Its landscape mostly consists of low-lying valleys and plateaus, speckled with some notable mountains. One of the most prominent peaks is Mount Uludağ. In winter, its snowy slopes are a prime ski destination. On the warm summer days, it becomes the perfect spot to observe the dense forests that embrace the meadows below.

Marmara is Turkey's major agricultural centre. Gardening is the collective hobby here and wheat, sunflower, corn, sugar beads, rice, and olives grow in abundance.
Marmara's capital and largest city is Istanbul, the great capital of the Roman, Byzantine and Ottoman Empires. Istanbul is divided into two by the Bosphorus Strait—one part in Europe, one part in Asia. A confluence of eastern and western cultures, Istanbul is a blend of Turkish tradition and cosmopolitan sophistication. It is one of the great metropolises of the world, a city of mosques, synagogues and churches. It is a city where Roman ruins and sultans' palaces stand even as it continues to become more modern and urbanized.
Balikesir Province
The province of Balıkesir lies in northwestern Turkey, with coastlines on the Aegean and the Mamara Seas. It has a long past, evident in historic monuments such as the Zağanos Pasha Mosque, the Yıldırım Mosque, the Karesi Bey Tomb, and the Clock Tower in the city centre.
One of Balıkesir's natural prides is the lovely Gulf of Edremit, also known as the Olive Riviera, lying on the Aegean. Its lengthy beaches are backed by olive trees and boast deep blue waters. There are several hotels and camping grounds here. Many old, traditional houses have also survived.
The province has many popular holiday towns. Akçay and Gönen have natural thermal springs, spas and health centres. One can find Byzantine and Roman ruins in Ören, whose lush pine forests go all the way down to sandy shores.
The picturesque Ayvalık consists of 22 large and small islands, all green and lush. The island group can be best viewed from Şeytan Sofrası (Devil's Table), which also offers gorgeous views of sunsets and the Sarimsakli peninsula. The islands of Cunda and Çamlik are well-known for their seafood restaurants.
The islands of Marmara, Avşa, and Paşalimanı all have wonderful beaches and delicious wines. The beautiful Mermer Plajı (Marble Beach) belongs to Marmara, and is named after the town's famous marbles. Nearby Erdek combines historical Kyzikos and Hadrian's Temple with fragrant fruit orchards, vineyards and olive groves, and fine beaches.
Balıkesir does not seem to run out of attractions. South of Bandırma, the second largest port town in the Marmara Sea, is the Kuş Cenneti National Park. The park is the home of 239 species of birds, with a total avian population of 3 million.
In the district of Edremit is the lovely, oxygen-rich village of Altınoluk. North of Endremit is Kaz Daği National Park, a wildlife sanctuary covering Mount Ida. The mountain is famous in Greek mythology as the site of a beauty contest among the goddesses, where Paris of Troy chose Aphrodite as the winner after she offered him the most beautiful woman in the world—a decision which, in legend, set off the Trojan War.
Tekirdag Province
The province of Tekirdağ on the Marmara Coast is a land of wine festivals, tea gardens, and unspoilt sandy beaches.
Tekirdağ is becoming famous for its rakı,or grape brandy. Şarköy and Mürefte dominate the wine-making scene and have become popular holiday towns. Şarköy hosts wine festivals every year.
The Rüstem Pasha Mosque is one of the most beautiful examples of Ottoman architecture in Tekirdağ, decorated inside with fine, colourful Iznik faience. Another interesting site is the house where Hungarian national hero Prince Ferenc II Rákóczi lived in exile, now converted to a museum in his honour.
Examples of 18th and 19th century domestic architecture have also survived in Tekirdağ, despite the unplanned and massive industrial development that took place here. These houses are either wooden or built of brick and stone. Sadly, most are in ruin.
While Tekirdağ is highly industrial, it lacks medical and educational facilities.
Sarkoy
Seaside Şarköy has the longest beach in Turkey, a 60-kilometre strip that has been certified for its cleanliness, safety measures and for having no environmentally fragile areas nearby that could be harmed by its popularity.
Şarköy is a photogenic district: fishing boats trawl its Marmara Sea coast for fish and prawns, and vineyards and olive groves dot the land near the shore. Wine-producing communities have sprung up in these areas, such as the old, lovely coastal villages of Eriklice, Mürefte and Uçmakdere. But though wine-making has been around in the region ince the days of the Byzantine Empire and earlier, today's Şarköy wine industry is large-scale and modern, with a well-attended wine festival held every autumn.
Inland, farther from the coast, most of the land is cultivated and used for growing wheat, barley, tobacco and sunflowers.
The town of Şarköy, is a popular holiday destination for more budget-conscious Turks. It can get rather crowded here in the summertime, its bars and discos filling up with young fun-seekers while families have fun at the beach.
Kocaeli City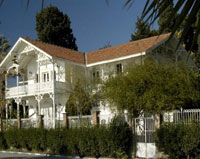 Kocaeli City is the highly industrialized capital of Kocaeli Province, the second most populated province in Turkey after Istanbul. Its rapid migration largely contributed to unplanned construction and environmental pollution.

Nearby İzmit was once Nicomedia, an important city in the time of the Roman and Ottoman Empires. Today, it is a big industrial centre. In 1999, İzmit was the epicentre of a major earthquake that hit northwestern Turkey, devastating the region and killing nearly 20,000 people. The area is still underoing the process of reconstruction and rehabilitation. Some Ottoman-era buildings still stand.
---