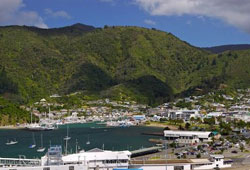 Situated in the northeast region of South Island, Marlborough is divided into four geographic sections. The southern and western sections are mountainous, characterized by the Kaikoura Ranges and the final northern vestiges of the Southern Alps. The third section comprises the long fertile valley along the Wairau River. The final section is marked by the beautiful coastlines of the Marlborough Sounds and the drowned river valleys of the Queen Charlotte, Kenepuru and Pelorus Sounds.
The Mount Richmond Forest Park and Onamalutu Scenic Reserve cover much of Marlborough's landscape. Queen Charlotte Sound is noted for its deep coves and bays, which hide in its depths some famous shipwrecks, such as the 120-year-old wooden barque Hippalos and the Russian cruise ship Mikhail Lermontov.
The region is famous for its vineyards and wineries, especially in the Wairau Plain and the town of Blenheim. Marlborough's specialty is Sauvignon Blanc, although it has also received praise for its Chardonnay, Riesling, Pinot Noir, Pinot Gris and Cabernet Sauvignon.
Blenheim is also noted for the Lake Grassmere Saltworks. Northwest winds cause some of the lake's shallow saltwater to evaporate, leading to the formation of huge white mounds of salt. It is famous for its waters' unusual coloration: some of the lake's ponds are a vivid pink, thanks to the presence of microscopic green algae that form red pigments in high salt concentrations.
---