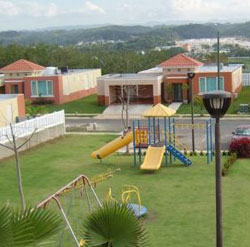 A generous number of springs, lagoons, lakes and rivers flow through Manati. The town was named after the Taino word for the many sea cows that have swum in these waters for hundreds of years. Manati is also known as the Athens of Puerto Rico because of its rich culture.

Manati is considered the pineapple centre of Puerto Rico, although one could also find coffee, sugarcane and other fruits being cultivated here.

Surrounded by natural reefs, Manati's Mar Chiquita Beach is protected from the rough Atlantic currents, making it an ideal and safe spot for swimming and snorkelling for the entire family.
Other landmarks of interest in Manati are old ruins, in particular the Marques de la Esperanza Hacienda Ruins and the Ruinas de la Oficina de la Central Monserrate.
---