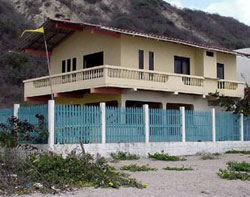 Named after the Manabí tribe, this province is known for the remains of pre-Columbian cultures that have been found here. Manabí has numerous prehistoric sites such as the Laguna del Encanto and the Casa del Diablo.

Manabí also has a slew of stunning beaches and picturesque fishing villages. The province's commercial centre, Manta, has the second largest port in Ecuador. Manabí is known to produce the best Panama hats in the country.
Portoviejo
Portoviejo, the capital of Manabí, is one of Ecuador's largest cities, although it only has around 200,000 inhabitants. Many expats choose to retire here and in the nearby town of Crucita, a popular beach resort.
Portoviejo is a city of spas—thermal baths abound in Portoviejo: in La Peña, El Zapallo, Cerro de Hojas, San Antonio, and La Papayita. It is a busy, modern city with two airports and several top-rate hotels. The capital's coffee, cattle, and fishing industries also make Portoviejo an important trade centre.
Puerto Lopez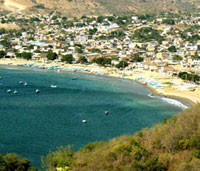 Puerto Lopez is a small, pleasant fishing village whose two primary sources of living are fishing and ecotourism. It has a lovely beach surrounded by cliffs to the north and to the south. The nearest street to the beach has several restaurants, a few nightclubs, and a number of small cabins that serve refreshments and corviche caliente, a regional delicacy that consists of banana and flour dough stuffed with salty fish.

Close to the shores of Puerto Lopez is the former pirates' hideout of La Isla de la Plata, inside the Machalilla National Park. The island is also known as "Little Galápagos" due to the many kinds of seabirds that make it their home. La Isla de la Plata is surrounded by coral reefs, making snorkeling and scuba diving the favourite activities of its visitors.
Machalilla National Park is the most visited national park of coastline Ecuador, and is busy with both local and foreign tourists all year round. It is notable for its pristine white beaches, lush, native vegetation, and archaeological sites that hold relics of the old, pre-Columbian Machalilla culture.
Montecristi
The old village of Montecristi is world-renowned for its exquisite Panama hats, made of fine, intricately woven toquilla straw.
Montecristi was the birthplace of one of Ecuador's greatest statesmen, José Eloy Alfaro. His family manufactured and sold Panama hats and made Montecristi the Panama hat centre it is today. When he was a young man, Eloy Alfaro expanded the business by exporting hats to the U.S., used the profits to help fund Ecuador's revolution, and twice became the country's president.
Alfaro's house receives a lot of visits from tourists. Another popular Montecristi site is the Monserrate Sanctuary, visited by thousands of local and foreign tourists for its miraculous statue of the Fallen Christ. La Pila is another interesting place to visit, with its sculptures and Pre-Columbian ceramic replicas.
Montecristi's evening party scene is loud and lively, particularly along the city's jetty.
Jipijapa
Montecristi's neighbouring town of Jipijapa may not be a prime spot for tourism, but it is the other Panama hat giant in Manabí.
While Jipijapa does not have a wide selection of restaurants, it is reputed to be the best place in the country to try Ecuadorian street food without having to go through a gastric nightmare.
Manta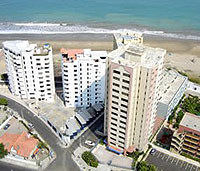 Although it is not the capital city, Manta is Manabí's economic centre and Ecuador's second largest port. Tuna is Manta's biggest income generator; big US and European tuna companies have factories here. The Manteña seaport also exports Montecristi and Jipijapa's Panama hats to the rest of the world. Manta's rental of its aerial base to the United States Air Force for its anti-narcotic operations also helps boost the region's economy. Next to Quito and Guayaquil, Manta is Ecuador's highest-earning city.

Manta has dazzling beaches. El Murcielago is the most favoured one, its stylish jetty having excellent restaurants that dish up the region's best local cuisine. Diving and sport fishing are the preferred aquatic activities, though kite surfing and wind surfing are also popular due to the city's perfect wind conditions.
During the weekends, Manta's commercial and entertainment districts teem with foreigners. Passengers of Caribbean cruise ships also take advantage of the brief stop at Manta to check out the town's attractions.
Dry, favourable weather, arid tropical forest, and antique wooden and bamboo houses—remnants of Manta's previous rural incarnation—all add to the city's charm. One can learn its rich history by visiting the Central Bank Museum, which houses relevant collections of Manta's pre-Columbian crafts.
---