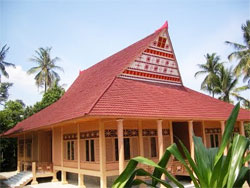 The province of Maluku made up part of what used to be known as the Spice Islands. Its provincial capital is Ambon. The province is made up of around 1,000 islands that area scattered between the larger islands of Papua and Sulawesi. It is unique in the sense that only 10% of the province's total surface area is land and the rest is sea. All of the tiny islands though are blanketed in mountains (craters to be more exact) and dense forests. This collection of islands sits on top of one of the most volatile volcanic belts in the worlds, having experienced over 70 eruptions over the last 400 years.
Transportation by air and sea keep the islands linked. The area has 20 airports and 32 seaports, but only about 160 km of roads.

Ambon
The beautiful city of Ambon in Ambon Island is the port capital of Maluku. It is built on hills with magnificent bay views. Ambon, one of the largest cities in Eastern Indonesia, has been the site of religious disputes resulting to violence, and civil unrest.
Ambon has few places of historic and cultural interests, such as the Portuguese fort ruins, the ANZAC War Cemetery honouring WWII soldiers, the Monument of the National Hero Pattimura, and the Siwa Lima Museum.
There are beautiful beaches nearby, such as Natsepa Beach popular for family picnics, swimming and sunbathing, and Batu Kuda, with its white sand beach and Coral Sea Garden perfect for snorkelling and diving.
---