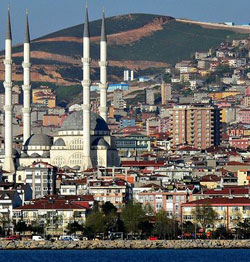 Suburban Maltepe was once one of Turkey's wealthy and popular residential areas, filled with huge summer beachfront mansions. Since it is on the city's railway line, it was a popular beach retreat for Istanbul's well-off. However, as the Marmara Sea became polluted, Maltepe grew less desirable as a destination for the sun-starved.

Today, it has seafront houses and tall apartment buildings that were slightly damaged by the 1999 earthquake. While its fortunes may have declined on the residential front, it remains a prime commercial area, with large supermarkets, busy shopping areas, fast-food outlets, cinemas, bars that feature live bands, and restaurants serving delicious kebab. On the whole, the district has an interesting cosmopolitan appeal.
Kucukyai
Küçükyalı is a popular residential area in the district of Maltepe in Asian Istanbul. Its well-organized planning makes it a sought-after area. It enjoys views of the Princes' Islands in the Sea of Marmara.


Central Maltepe
Central Maltepe is a middle- to lower-middle-class neighbourhood with relatively affordable property prices. Its busy commercial district includes big supermarkets, international shopping centres, fast food franchises, and cinemas. Not far from here are cafés and bars facing the Marmara shore. Central Maltepe's imposing landmark is the large modern mosque, one of the largest in Istanbul.
There are rental apartments in Central Maltepe, close to the central park, the central market, and the shopping district.
Esenkent
The Esenkent residential area in Maltepe was created to provide modern living spaces for the poorer Istanbul residents to prevent the formation of a shanty town. Apartment blocks were built for them, and green spaces, schools, social services, shopping centres, and sports facilities as well. When the development was marketed, it attracted many middle-class local residents and immigrants looking for a sustainable urban lifestyle.
---