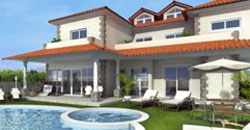 Maio lies in the easternmost part of Cape Verde's Sotavento group of islands. It was once the centre of salt collecting, attracting British traders and high-seas pirates. Today, it is more known for its long and beautiful white sand beaches, though tourism is yet to pick up pace.

Situated along one of the island's longest beaches is Vila do Maio, also called Porto Ingles. It is the island's main town and port, where British and Portuguese colonial architectures line the streets leading up the steep hill. One cannot miss the imposing Baroque church perched on this hill.
Maio has other attractions aside from its spectacular coastline and architecture. The small town of Morro is a delight to birdwatchers as it has a large population of endemic bird species. Many parts of the island have been successfully reforested, and are now part of protected landscapes and nature reserves.
---