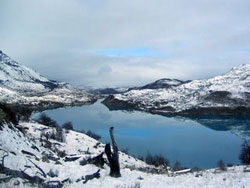 Magallanes and Antártica Chilena, the southernmost part of Chile, is the second least populated of Chile's regions. It is also the coldest, being the closest to the South Pole.

A gold rush led to Magallanes becoming populated. The region's most valuable commodity, however, is oil. At one point the region was the source of half of the country's supply. Tourism and cattle- and sheep-raising are other major industries in the region.

Magallanes and Antártica Chilena is known mainly for its geographic landmarks. Chile has to share the territory of the island of Tierra del Fuego, the southernmost part of South America, with Argentina. The island's inhabitants sometimes refer to their home as El Fin del Mundo. The very southernmost headland of the island is Cape Horn, which is marked by glaciers and mountains. The Strait of Magellan , which separates the island from the mainland, is a vital connection between the Pacific and Atlantic Oceans.
Plenty of interesting wildlife thrives in this vast, remote place, including penguins and condors. There are some protected areas here, including Torres del Paine National Park and the Cueva del Milodon Natural Monument, with its fascinating collection of prehistoric remains. The Patagonia Expedition Race takes place here. 
---