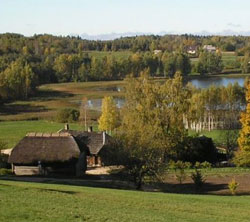 The Madona District occupies parts of the Vidzeme and Latgale regions of eastern Latvia. Along its eastern border lies the country's largest lake, Lake Lubāns.

Madona is rich in lakes and mountains. The highland area known as the Central Vidzemes Height rises in the western part of the district. It is where you will find the tallest hill within Latvia, the Gaiziņkalns. With its mountainous terrain and a climate that brings in deep snowy winters, the Madona District has become a popular winter sports destination. At least eleven skiing and snowboarding companies provide services to sports lovers here.
Madona is the second-biggest district of Latvia, after Liepāja, but it remains one of the country's most environmentally untouched areas, without any major industrial activity. The district is home to 20 nature reserves, including two large state-protected forests. The one in Teici holds the distinction of being the largest protected marsh in the Baltic region.
---