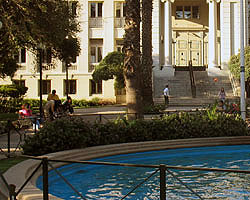 Just south of Nuñoa, Macul is a mixed residential and industrial area, though shifting in character in the last few years. It is home to a primarily young population. Thus a number of trendy nightclubs, restaurants and discos catering to young people have popped up in recent years. Other attractions include the Aquatic Club Macul and the Estadio Monumental.

In the heart of the commune is the Palacio Vasquez, also called the Castillo de Macul, a neo-colonial house and National Monument. On the other side of the Americo Vespucio highway and closer to the Peñalolén commune is the wine estate of the prominent Cousiño family. Chile's first grapevines were planted here in the 16th century, but the Cousiño-Macul vineyard wasn't established until 300 years later. The vineyard is a top Santiago tourist attraction and produces some of the country's famous wines.
Like La Reina, Macul was once part of Nuñoa until it was declared a separate commune in the 1960s.
---