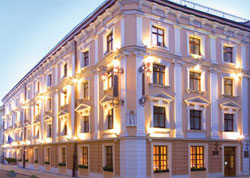 Lviv, the largest city in Western Ukraine, is one of the country's main cultural centres. It rightfully earns its place on UNESCO's World Heritage List. It was a major religious and commercial centre during the Middle Ages and continues to flourish, with Polish and Austro-Hungarian influences dominant in its well-preserved urban architectures. It has remarkable examples of Eastern European styles merged with Italian and German design sense.

The historic centre has well-developed tourist infrastructure, but outside of downtown, the city is dominated by the rather bleak Soviet-era buildings. But this does not spoil the city's overall historic charm.
Lviv is home to the Lviv University and Lviv Polytechnic, as well as the Lviv Theatre of Opera and Ballet. Its highest point, the Vysokyi Zamok (High Castle), has a commanding view of the historic centre.
The predominant languages in Lviv are Ukrainian and Russian. The language barriers here can be quite intimidating.
---