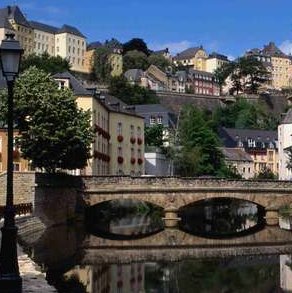 The southern province of Luxembourg is not to be confused with the neighbouring and sovereign Grand Duchy of Luxembourg, from which it separated in 1839. Luxembourg is also Belgium's largest and least densely populated province.

There are many places to visit in Luxembourg. One of them is the tiny village of Redu. It has a resident population of 500, but attracts 300,000 book lovers to its book fair every year. Another attraction here is the Europe Space Centre, which has a full-size replica of a space shuttle, and offers space-related training courses for visitors. Redu is also the site of several ground stations of the European Space Agency.
The large medieval castle that belonged to Godfrey of Bouillon, who led the first Crusade, is in the town of Bouillon, on the French border.
The village of La-Roche-en-Ardenne, in the Ardennes woods, is a popular holiday resort known for a wildlife park, museums, a small train that takes visitors everywhere in town, and most famously the ruins of an old castle overlooking the Ourthe river.
Arlon
The capital of Luxembourg is Arlon, a quiet city on Belgium's border with the Grand Duchy of Luxembourg. Its past is charmingly preserved in its houses—many are designed in stone and wood, Luxembourgian style, and others along neoclassical Belgian lines. Arlon has a noted archaeological museum that shows relics from the region's Roman past.
Arlon isn't a very exciting place, but it is well situated, being a stop on the Brussels-Luxembourg City international railway. Residential areas and commercial zones here are always expanding.
---