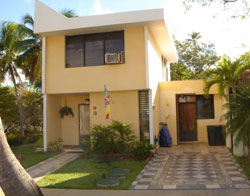 Luquillo is most famous for the spectacular Luquillo Beach. What makes this beach very special is that it has a special section called Mar Accesible (Sea Without Barriers). Located on the beach's east side, the facilities here are specially made for the handicapped and those with special needs. A very dedicated staff assists handicapped visitors so that they too can enjoy what the beach has to offer. Another beach, Balneario La Monserrate, also has its own Sea Without Barriers.

The snorkelling is fantastic at Playa Azul and Costa Azul. Sunset Snuba offers a unique diving experience. Instead of burdening the diver with cumbersome air gear, a raft floating on the surface provides the air, thus allowing for dives of up to 20 feet.'
El Yunque Caribbean National Rainforest extends into Lunquillo. In this section of the forest, are spectacular waterfalls and a sanctuary for the Puerto Rican parrot.
---